One of my favorite California artists in the genre of mid-century modernism is Helen Lundeberg. I always love seeing new paintings by her. Lundeberg painted surrealist subjects as well as hard-edged geometric compositions. Her depictions of macrocosms and microcosms are some of her most interesting works.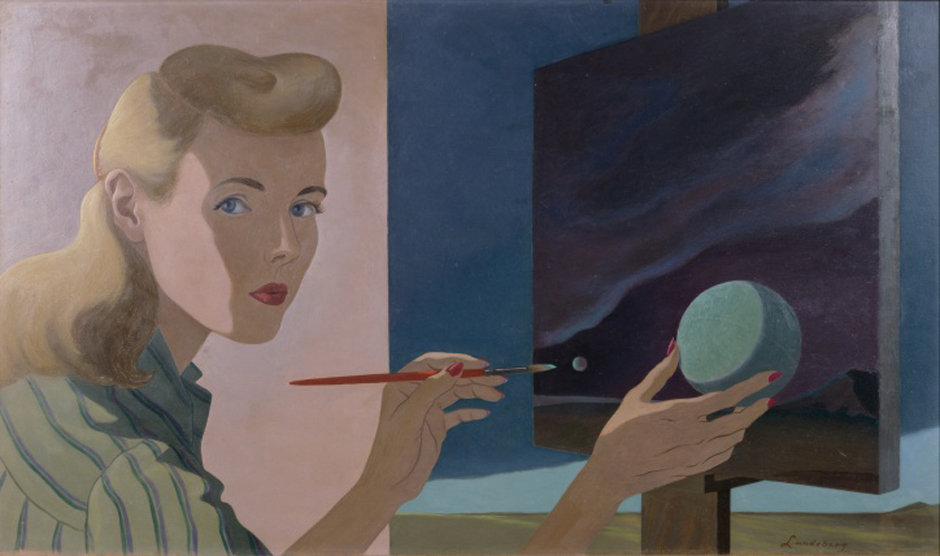 Helen Lundeberg (1908-1999) was born in Chicago, Illinois 1908. As a child she moved to the artist colony of Pasadena, California. In 1930 she enrolled at the Stickney School of Art in Pasadena where she was met Lorser Feitelson, her future husband.
From 1933-42 Helen Lundeberg worked as a muralist and lithographer for the WPA California Federal Art Project, including a 240-foot-curved wall in Centinela Park in Inglewood, CA. Simultaneously, she and Feitelson founded an art movement known as Post-Surrealism.
Early in her career Lundeberg's work was exhibited at the Brooklyn Museum and New York's Museum of Modern Art. Later in her life she had work shown in the San Francisco Museum of Art. She was working during the same time period of Georgia O'Keeffe and some similarities can be found between the two artist's interest in the abstract quality of extreme close-ups. Still, Lundeberg often depicted the cosmos and planetary structures.
Helen Lundeberg is one of the rare women artists whose work has a strong market value comparative to her male contemporaries. A recent auction at
Bonhams and Butterfields
sold three of her works in their Made in California sale.